Description
2021 NEW MODEL: The updated version for BOX X2. Next-generation phono preamp for unrivaled sound quality.

JAN 5654W Tube MM Phono Preamplifier: The BOX X4 phono preamp supports 3.5MM AUX and MM turntable input, converting phono signals to Line Level signals with low-noise integrated circuits and high-quality components to remove low-frequency noise ensure clear sound quality. Designed with a grounding post to protect your turntable.

Tube Headphone Amplifier & Preamplifier: The BOX X4 is designed with a 3.5MM AUX headphone and RCA output, highly useful beyond imagination.

Applicable Vacuum Tube Model: 6K4/6J1/6J4/GE5654/6AK5/66*In vacuum tubes, etc. You can replace the vacuum tubes to DIY your stereo system. Different tubes with different sounds.

What You Get: BOX X4 phono preamp, DC 12V power supply, user manual, our worry-free 18-month warranty, and friendly customer service.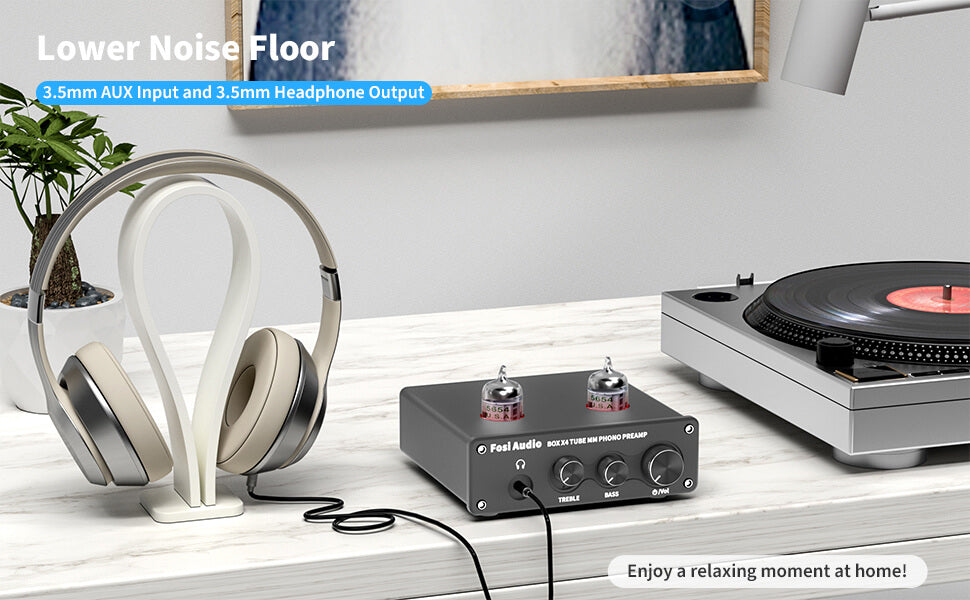 Product Parameters:


Input Interface: MM turntable input, 3.5mm AUX input, 12V DC input

Output Interface: RCA output, 3.5mm headphone output

Output: Active(powered) speakers, Amplifier, Headphones

Applicable headphone types: 16 Ω - 300 Ω

Output Voltage Level: 1kHz and 650mV

SNR: ≥ 70dB

THD: ≤0.1%

Frequency Response: Standard RIAA

Product Adapter Input Voltage Range: AC 110V - 240V
Treble and Bass Independent Adjustment

Treble and Bass independent gain rotation design, sound quality is under control, adding more playability and fun for music, more ways to play and wait for you to discover.

Independent Headphone Amplifier

A 3.5mm headphone amplifier output interface is compatible with an ordinary 3.5mm headset. It is designed for headphone users, reserves the gain interface for audiophile DIY. This preamp canrestore the sound more clearly.
 

All-aluminum alloy body

Exquisite appearance, compact body. The overall structure is natural and simple, and the material is strong and textured for superb visual enjoyment. When placed on the desktop, it is solid and does not take up space.

DC 12V Supply

The power supply has performances such as short-circuit protection and overload protection. And effectively reduce the impact of AC input.
Payment & Security
Your payment information is processed securely. We do not store credit card details nor have access to your credit card information.