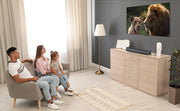 Take the Party to Your Home with an In-home Hi-Fi Sound Bar
Do you want to throw a party for your friends or family that they will remember for the rest of their lives? Well, many factors contribute to making an in-home party a success: the food, décor, ambience, and music. Whether it's live music using instruments from
Danville Music
or you are using a sound bar, music adds life to your party.
Grooving to the songs with a strong base or dancing with your beloved on a romantic track, music helps you make memories that last forever. Whenever you listen to a song, all moments associated with it keep coming back, and you can relive the most cherish able instances of your life.
A hi-fi sound bar can help you set a proper party environment at your home. All you will need is a good playlist to get the event started. Besides, once you have purchased it, you can party any time you want.
Fosi Audio A3 is the best hi-fi sound bar for in-home parties. Among so many of the other options at Fosi Audio, it perfectly adds on to the party's ambience. Here are all the reasons that will compel you to buy Fosi audio A3 right away:
The Appearance
There is no need to worry if you do not have a huge space to accommodate a sound system for your in-home party. Fosi Audio A3 is designed to be specifically used for this purpose while taking a little space in your room. The best part is that it can be wall mounted and used as a TV sound bar. It is slim and cylindrical, making it one of the most attractive sound gadgets. Its appearance is quite impressive!
Hi-fi Sound
What can disrupt the fun of your party? Noises from the outside of the audio. Experts specifically design Fosi audio A3 to eliminate all the unwanted noises in the audio and help you listen to it more clearly.
You can easily cut all the noises from the surroundings, detach the inner environment from the outside and recreate the ambience of a bar or a club at your home. If you want your part to be a success and want guests to have a great time, Fosi audio A3 is a great choice. Besides, Fosi's team is working continuously to improve the sound quality.
The Ease of Use
Please do not confuse the usage of Fosi audio A3 with the sound systems that we used to have a few decades back. The technological reformation has not left the audio equipment untouched. You won't have to worry about getting the wires attached; just turn on the Bluetooth, and connect it with your songs device, a laptop, TV or a phone, and you are good to go.
The best part is it comes with a remote. Even if you are watching a movie or just listening to songs, you won't have to get up to adjust its volume or base; you can simply do it all from your couch.
To cut it short
This elegant audio equipment is specifically designed to bring the party to your home. Whether surrounded by people or watching a movie with your family, you can enjoy its seamless working and fantastic sound and make your moments more memorable and enjoyable.