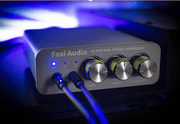 Fosi Audio K5 PRO MINI STEREO GAMING DAC
"A small DAC with a big bag of tricks"
                                                                              ----------GREQ from head-fi.org
Pros:
Very small footprint
Simple but powerful treble/bass tone control
Enough headroom for most headsets and sensitive dynamic headphones
Cons:
Very compact – can be difficult to twist the knobs without moving the entire unit
Better sound may be available around the price bracket
No 6.3mm output – not a deal breaker, and rare at this price
Background hissing present on higher volumes with IEMs

Disclaimer:
This unit has been provided free of charge by Fosi Audio in exchange for my opinion.
The following is an account of my own personal experience with the product.
Intro:
The 'K5 Pro Mini Stereo Gaming DAC' is directly aimed at the entry level gamer-focused audiophile.
What makes it stand out from the crowd, especially at this price point is a range of audio inputs, including a 3.5mm front-microphone port for headsets.
However, what truly stands out for me in a product at this price point is the inclusion of bass and treble tone controls; more on those later.
Specifications for the K5 Pro can be found on their website:
https://fosiaudio.com/products/fosi-audio-k5-mini-stereo-gaming-dac-hifi-headphone-amplifier-microphone
[Spoiler – Unboxing Pics/What's in the box – These photos will be hidden inside an 'unboxing' tab that viewers can click on to open]
Build, Design & Ergonomics:
I get the impression that most of the cost went under-the-hood of this product.
It comes with a pretty standard aluminium shell, however it is tastefully finished with the front facade perfectly matching the body and the text is fairly well subdued on a grey/silver version.
The control knobs however do feel a tiny bit loose, so it feels something like a little mechanical backlash before the turning actually takes control of the sound – in practice you're not going to really focus on this at all if you're just making quick adjustments on-the-fly.
Inputs:
On the rear of the unit, the cinch output sockets and coaxial input sockets are notably fine. They do not have obnoxiously strong hold over plugs like some other RCA sockets.
The USB-C port is OK; the cable isn't seated perfectly snugly, but this is a common theme even on mobile phones that cost over 1000 euros, so for a stationary desktop unit, this is more than acceptable. Since I was using the K5 Pro at my PC, this review will be based around it's USB functionality.
I do not own any products with optical or coaxial output, so that part will not be part of this review.
Other:
The rubber feet are a nice addition that I wasn't expecting on a product at this price point, however they didn't prevent the unit from sliding around on my glass monitor stand base, but I still greatly appreciate the scratch protection.
The blue LED is quite bright compared to other products I own, and might be distracting for some people if placed close by or directly in front of you. I found it to be a bit distracting late at night.
And finally, due to the small size of the unit, some might find that it is impossible to turn the control knobs without raising the unit off it's resting surface.
Mine was perched a little higher off my desk on the edge of my monitor stand base, so that was a non issue for me.
Functionality:
Installing the DAC was as simple as plug and play, however it will need a dedicated USB port for power. It will not turn on if it has to compete for power through a passive USB hub.
After installing, it does not behave differently to other DACs I have used in the past with Windows.
The front microphone input port is an excellent addition. While it's audio quality is highly dependent on the microphone quality on your headset, it worked properly without any added background hissing.
Sound:
It's safe to say that the K5 is able to drive most common headphones and headsets to excessive listening volume with ease.
I threw quite a few of my headphones at it to see what would stick and it was able to drive all of them to uncomfortably loud listening levels, even on my Hifiman HE-500 and Sennheiser HD650, however it struggled to render the sound competently when compared directly to more powerful amplifiers.
I noticed it especially failed to produce convincing dynamics with large planars, which are notoriously power-hungry, and with some more demanding dynamic headphones like my JVC HA-DX1000 it was not able tocontrol sub-bass texture with authority.
With most headphones it sounded somewhat 'weak' despite the adequate volume output.
I think one of the main factors for this evaluation is that the K5 Pro appears to be on the leaner side of neutral, with upper mids being slightly more forward and bass slightly reduced compared to other amps I own. Of course this evaluation only takes into consideration the units performance when no tone control is applied.
I measured 3 random dynamic headphones (volume matched) on the K5 Pro and on my NFB11.28TXO (unmodified), and the results confirmed my evaluation consistently despite variation in headphone output load.
I think this is neither a good thing or a bad thing – you only have to ask yourself how much does this matter to you on a unit that comes with it's own tone controls. Personally, it matters little.
Measured with miniDSP EARS.
With the bad out of the way, here comes the good news! This DAC seems to excel with sensitive dynamic driver headphones. The differences between this unit and more expensive units become far more incremental.
The biggest surprise for me was how well it took to driving my Sony MDR-SA3000.
This headphone in combination with the K5 Pro sounded practically no different to my NFB11.28TXO, but the really impressive part is that adjusted treble and bass with the K5 sounded less compressed and more lively than the NFB11.28TXO with Equalizer APO – a common drawback of using digital EQ.
Those who know the SA3000 are aware that is is a detail and treble-monster with a rather weak bass response. Correcting those 'flaws' to my taste on the K5 Pro was so simple and brought my SA3000 to another level of enjoyment.
For context here are the measurements of the Sony MDR-SA3000 through the K5 Pro with various EQ settings.
Measured with miniDSP EARS.
In practice, the EQ offers adjustment up to around +/-15dB in the bass and about +/-9dB of treble.
In my opinion this is more than enough for most headphones, as demonstrated by it easily 'correcting' the notorious SA3000.
The 'correction curve' of both treble and bass do not radically intrude into the midrange and is an excellent additional feature at this price point.
However, I don't recommend using the tone controls to their extremes. I noticed that maximum bass volume will introduce mild distortion.
For extreme bassheads I would still recommend using EQ APO as a primary source of tone control.
Also, the minimum bass volume seems to introduce some artefacts, however at this greatly reduced volume, you likely wouldn't hear any of those artefacts anyway.
Conclusions:
There is a lot to like about this little guy.
It's a really well thought out selection of inputs, outputs and functionality to get anyone started on their audio journey.
I found that most of it's drawbacks are largely due to me being spoiled by bigger amps, and it also proved to me that even a small DAC can still synergize with the right equipment and bring a lot to the table.
It's great to see tone controls on a tiny amp at the entry level.
This is the kind of feature that would prevent people from spending and spending on many different headphones for every different album, genre and video game. Instead you just need to dial in your preferred tone setting, or adjust as you go, without having to reach for a different headphone for every occasion.
Sure, it's not a reference grade unit, but I could certainly have used this 15 years and 400 headphones ago, and I would have no trouble making a recommendation. If absolute peak audio quality isn't a concern, even to seasoned audiophiles who just need a small, affordable and versatile unit for their gaming console, this is certainly a option worthy of consideration.