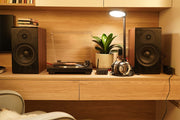 Fosi Audio – Know All About It
Music has been an integral part of our civilization for centuries. It defines the traditions, cultures, and heritage of communities. Musical instruments and devices are undergoing rapid innovations to cater to the needs of audiophiles and regular listeners. The aim is to provide better sound quality, easy accessibility, and efficient energy consumption. Fosi Audio recognizes all these facts and works tirelessly to bring the latest sound devices to its customers. Over a short period, we have garnered a loyal following of music enthusiasts who appreciate and are always looking for the next big thing from us. Their continued trust motivates us to develop new audio devices and technologies that will bring more joy and excitement to our customers' ears. We want you to enjoy music and home theatre as they are meant to be.
Our History
Fosi Audio is proud to find its place in a highly competitive market in such a short time. We started our operations in 2017 and dealt exclusively with audio amplifiers, DAC, preamp, speakers, and other sound accessories. The same year we entered the North American market, and the response to our products was encouraging. The following year we started looking at European markets and made our first sales. We are extremely proud that Fosi Audio products are in great demand in both markets in the space of just five years. At the moment, we are serving audiophiles and music enthusiasts in more than 20 countries. We have sold 2 million units of our lightweight, compact and powerful home audio amplifiers globally. Our research and development team is working round the clock to bring more innovative ideas to make our products user-friendly and easy to use. So, whether it's a concert, a large arena, or your home, our small yet powerful amplifiers will bring pure joy and emotion to your life.
Providing Home Theatre Experience
Every audiophile wants to have a sensory overload when listening to their favorite music. They want to enjoy the same feeling as they are in a concert or cinema. Fosi Audio perfectly understands the wishes of its customers and the rest of the sound-loving community. Our aim has always been to be a home theatre one-stop solution by bringing the latest sound technology. Our team of developers is made of audiophiles who want to bring something new, innovative, and game-changing to the audio industry. This is why HiFi sound is our number 1 priority, and we never compromise on it. All our products undergo rigorous testing under extreme conditions to ensure our customers get the best and don't have to complain about a thing. Our range of speakers is meant to uplift the sound of your home theatre and offer a cinematic experience like none other. Add in amplifiers, and you are sure to get a sound that will satisfy your auditory senses. Everything we do is customer-centered and aims to provide the best listening experience. We are a group of highly motivated professionals committed to bringing the best in the audio industry through quality in our products and excellence in our services.  
Our Partners
We are a one-stop shop for all audiophiles to enjoy their music and experience HiFi sound on a budget. This is made possible by the people working hard to bring an excellent listening experience to our customers. We call them and anyone who appreciates the products "Our Partners." These are the people who are helping us grow and reach new markets. We are devoted to working alongside our partners to bring in more success and innovative technology that provides our customers with the best quality, powerful, and dynamic sound experience.
Ultimate HiFi Experience
Since we started our operations, the goal has been customer satisfaction rather than profits. We are proud to say that we have achieved it, but there is still a long way. We believe our products will provide the ultimate HiFi audio experience without breaking our customers' finances. In conjunction with our partners, we are motivated to cater to all the needs of our audiophile community. We aim to be the best sound quality and a massive contributor to audio technology.
Our Products
Fosi Audio has always been committed to serving its music community and offering the best in sound technology. Our researchers are working continually on home audio and video systems to address all the needs of sound enthusiasts. Have a look at some of our best products.
Amplifiers: Our Class D, 2.0 channel amplifiers and 2.1 channel amplifiers are popular products. They offer easy connectivity and can be used without complex installation. They are small yet powerful enough to satisfy all your sound cravings.
Pre-amps: Our pre-amp series is designed to offer reliability and ease of use from music to home theatre.
DACs: You can never go wrong with Fosi Audio's DAC. They are tested to produce HiFi sounds under every condition.
Speakers: We have also developed speakers and headphones designed especially for our amplifiers, pre-amps, and DACs.
Other accessories: As we said, we are a one-stop solution to all your audio needs. You will find all the relevant audio accessories on our website.
Our customers are audiophiles and music addicts who always want to enhance their listening experience. Fosi Audio listens to them and works hard to fulfill all their wishes.
Mission Statement
Our mission is simple, satisfy all your auditory senses, bring powerful sounds that play with your senses, and offer quality products on a budget. Our team and partners are working in perfect harmony to achieve these goals and bring the best in audio and video technology. We want you to enjoy the same experiences of a concert or a cinema at your home.
Future Goals
Our future is linked with the success of our products and the joy they bring to our customers. We never compromise on product safety and always offers the best in sound technology. Our research and development team is committed to working on new products and introducing new technology to provide a unique listening experience to audiophiles and music enthusiasts.