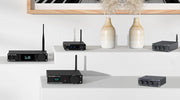 Top 5 Best Bluetooth Amplifiers in Fosi Audio in 2021
Fosi Audio has many Bluetooth amplifiers to choose from. Which one is best for you? How should you choose? Hope this article is helpful to you. This is a post for the best Bluetooth amplifier in Fosi Audio in 2021.
1. Fosi Audio BT20A 2 CH Stereo Audio Amplifier
BT20A
is the most popular Bluetooth power amplifier, it has the following characteristics:
High power: The max power is 100W X 2 at 4 ohms, comes with a 24V power supply, can drive 280watts(8 ohms), 320watts(4 ohms) speakers, (For passive speakers only, not the powered speakers.)
Mini size: Small simple compact design but practical and powerful, Hi-Fi Bluetooth amplifier exclusively designed for the customers who pursue HiFi sound.
Bluetooth 5.0: up to 33ft connection range guarantees low signal delay. No pop, no audible noise when Bluetooth connection is established; Advanced circuitry design, built-in speakers protection circuit, best for bookshelf/computer/desktop/speakers in your home.
Specifications
1. Power supply range: 12v-24v;
2. THD: ≤ 0.5%.
3. Frequency Range: 20Hz - 20kHz (±1 dB);
4. SNR: ≥ 98dB;
5. Input sensitivity: ≤ 280mV;
6. Terminating impedance: 2Ohm - 8Ohm;
7. Output power: 100W + 100W;
8. Input mode: Bluetooth and Analog;
9. Bluetooth chip: Qualcomm QCC3003
Meet the needs of most customers. 

2. Fosi Audio BT30D 2.1 Channel Power Amplifier with Bass and Treble Control
BT30D Bluetooth Stereo Amplifier adopts performance 2pcs texas instrument TPA3116D2 amp chip, dual-channel max output power 50W x2 +100W to get clear audio sound, no pop, no audible noise, dead silent when nothing is playing through it.

Speakers full frequency output, By using the custom treble bass knob and adjustable 40-300Hz cutoff frequency for the subwoofer, you'll be able to get the best sound.

Supports wireless playback from Bluetooth devices, Bluetooth 5.0 wireless music streaming technology with external antenna make a transmission distance of more than 15m/49ft.
Specifications
Chippest: TPA3116D2
Maxpower Output: 50W*2+100W
THD: 0.05%@output 1W; SNR ≥98dB
Working Voltage: 12-24V
Speakers Frequency Response: 20Hz-20kHz(±3dB)
Bass Cutoff Frequency Range Adjustment: 40-300Hz
Impedance: 2-8 Ohms
Output mode: Passive Speakers + Passive/Active Subwoofer
3. Fosi Audio Q4 Mini Stereo Gaming DAC Headphone Amplifier
Q4 is easy to set up, no special software, app, or driver to install, a true plug-and-play digital audio adapter.

With USB, optical and coaxial S/PDIF inputs can fit with most home audio systems, and RCA output can be connected to an amplifier or powered speakers on your desktop; Built-in Hi-Fi headphone amp chip can drive most 16ohm to 200ohm headphones.

160mW RMS at 32 ohms, with bass and treble control, can be used as a preamp or volume controller for your PC/MAC/Computer.

Mini Compact D/A converter, stream bit-perfect 24bit/192KHz HD with low jitter, with output, protect the circuit, safe for your expensive audio system.
Specifications
PC-USB supports input sampling rate: 96K/24Bi
Fiber/coaxial support input sampling rate: 192K/24Bi
Frequency response: 20Hz-20kHz (±3dB)
PC-USB support operating system: XP/W7/W8/W10/MAC/Linux
Distortion: 0.01%; SNR: ≥105d
Amp output maximum power: 100mW 32Ω loa
Headphone matching impedance: 16-200
Working voltage: DC5V; RCA output level: 2.3V


4. Fosi Audio BT10A Bluetooth Amplifier Receiver 2CH 50W x 2
BT10A is as good as BT20A, but just the power is 50Wx2.
5. Fosi Audio BL20A Bluetooth Power Amplifier Bass Treble With U-Disk Remote Control
BL20A is a powerful Bluetooth 5.0 HiFi stereo amplifier with AUX pre-output, which can be used as a pre-amplifier. Design Treble & Bass control and remote control to meet your more needs.

The BL20A power amplifier supports AUX/U-Disk/Bluetooth input, suitable for most home passive speakers. Using two low-distortion TPA3116 high-performance chips to display ultra-high-definition sound quality.

Convenient control with remote control, the USB interface is convenient for connection.
Specifications:
Power amplifier chip: TPA3116*2
DC Input Range: 12-24V
Terminating Impedance: 2 Ohm - 8 Ohm
MAX Power Output: 100W x 2
THD ≤ 0.001%
Frequency Range: 15Hz - 20kHz (±1 dB)
SNR ≥ 92dB
Input Sensitivity ≤ 500mV
Input Mode: Bluetooth,AUX, U-disk
U-Disk Capacity: MAX 32GB
Output Interface: Speaker's Output + 3.5MM AUX Pre-out
Output: Passive Speakers + Powered Speakers, Amplifier
Support Format: MP3/WMA/APE/ FLAC/WAV
Bluetooth version: Bluetooth 5.0 (up to 164ft/50m without obstruction)

In addition to the Bluetooth power amplifier, we also launched the wifi Bluetooth power amplifier T10, adding wireless/network streaming capability to your current speakers, home amplifiers, home stereo, or receiver. Supports playback of lossless music files-MP3, APE, FLAC, WAV with Hi-Res audio. When streaming wirelessly, Bluetooth can reach up to 10 meters. With stream music over the network, Wifi can reach anywhere the signal covers.
T10 wifi Bluetooth power amplifier


Let's join the audiophile's music journey with Fosi Audio Amp! In addition to the above 5 products, fosi audio also has a variety of other power amplifiers, DACs, pre-amps and other products. If you want to know more, please feel free to contact us.