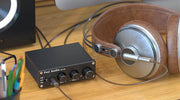 Fosi Audio Q4 DAC & Headphone Amp Perfect Combination
Q4 has been welcomed by the majority of users since its listing, buy the best gaming DAC on a limited budget and bring you HiFi enjoyment.

What customers like most are that Q4 not only has HiFi sound quality but also has high and low bass adjustment buttons.

"For music, I keep the bass and treble knobs at about 75% of their total capacity. But if I'm about to go watch a movie, rewatch Star Wars, or something, that treble knob I turn down to 50% and crank that bass up to about 90%. You feel like you're in a theater with that overcompensating sound system, and I just LOVE IT." Rolfathan said.

So what other features does it have that are worthy of everyone's love?

Easy to set up:
No special software, app, or driver to install, a true plug-and-play digital audio adapter. with bass and treble control, can be used as a preamp or volume controller for your PC/MAC/Computer.

Three-in-one input method:
With USB, optical and coaxial S/PDIF inputs can fit with most home audio systems, and RCA output can be connected to an amplifier or powered speakers on your desktop. Built-in Hi-Fi headphone amp chip can drive most 16ohm to 200ohm headphones.
Easily fits your audio system:
Tablet,laptop,PC,TV,PS4,DVD etc connect our Q4, and connect headset/powered speakers. you can use Q4 to connect our BT20A amplifier and connect passive speakers.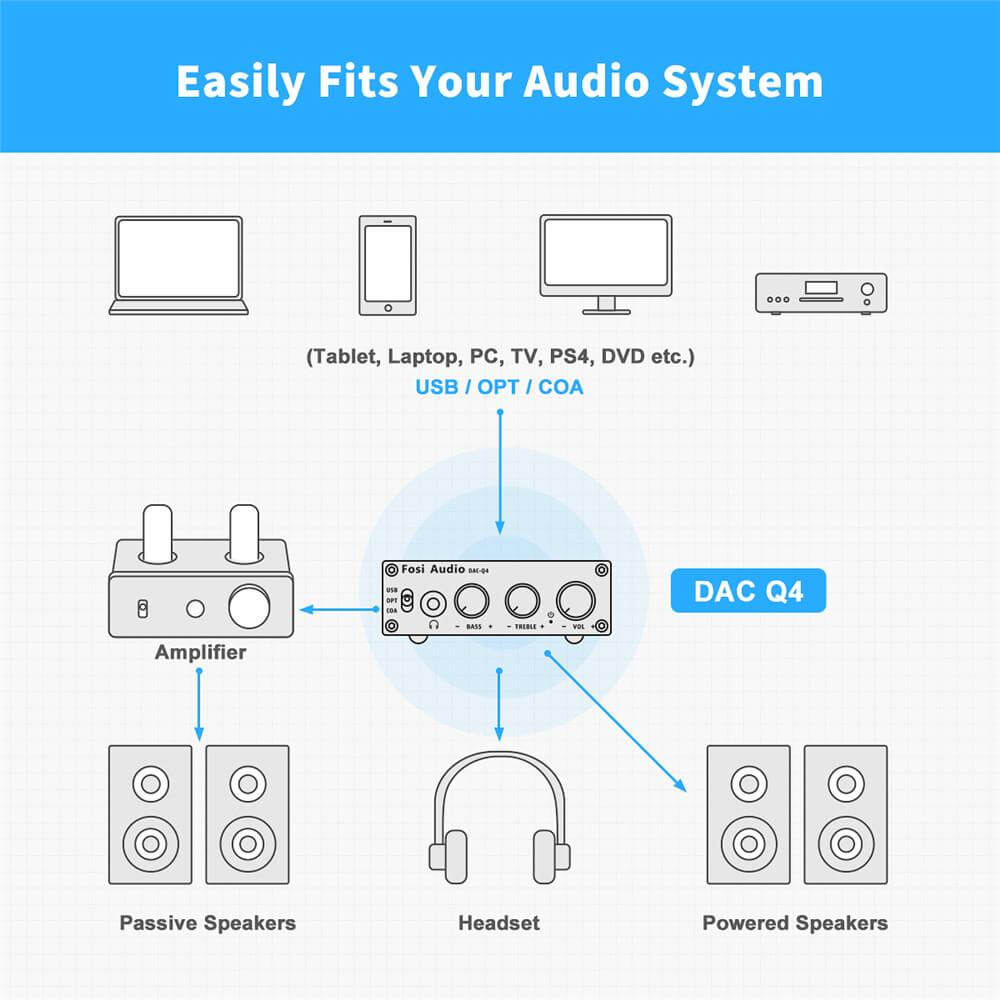 HiFi sound and high quality
Mini Compact D/A converter, stream bit-perfect 24bit/192KHz HD with low jitter, with output, protect the circuit, safe for your expensive audio system. Full metallic shell to ensure high quality.
Mini but Powerful:
Amp output maximum power is 160mW 32Ω loa and size is 73.5(L)*98(W)*33(H)MM (without knobs and terminals).
Other excellent platforms also recognize our Q4, such as:
RENTRY NOTE
: a web media that introduces home appliances and gadgets.
https://rentry.jp/note/usb-dac-headphone-amplifier/
Darko Audio: For Music-First Audiophiles on YouTube
https://www.youtube.com/watch?v=iZ6VCzpuG2c
Hardware Canucks: focused on everything technology on YouTube
https://www.youtube.com/watch?v=DUJe6Dtn1Iw
GeekyDeck:
https://geekydeck.com/best-fosi-audio/